Beverage

SpinLabel For Beverage
You can distinguish your brand(s) at the point of purchase. The customer is likely to continue rotating the label after purchasing, providing additional attention to your message. Marketing and Advertising teams love the incremental space and the opportunity to get the customer to touch the bottle, which increases the likelihood of a purchase.

Here are a few ideas to stimulate thoughts related to your brands:
Games, Trivia & Fun Can Drive Purchase and Repurchase
Fun Games, Trivia & Animation Help Build Brand Loyalty With Adults and Children
Continuity theme in label can drive repurchase
Perfect For Entertainment Tie-Ins
Virtually unlimited cross branding in and outside of line
QR codes, price promotions, larger size upsells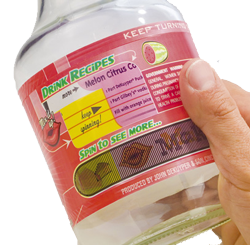 Recipes & Additional Usage
Interactive Experience at POP and at Home Drives Incremental Revenue.
Perfect for cocktail and drink recipes – drive ancillary sale of more units at POP
Interactive fun with barrier grid animation – drives re-purchase
Additional connection with the brand at home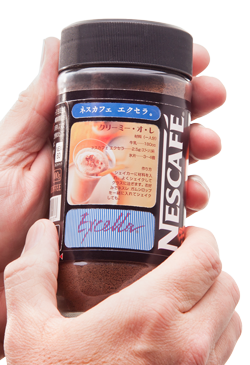 Multiple Languages
 Communicate In Different Languages
Add multiple language translations

Drives additional Purchase
Potentially reduces sku's

Tailored Cross Sell Opportunity by Language Panel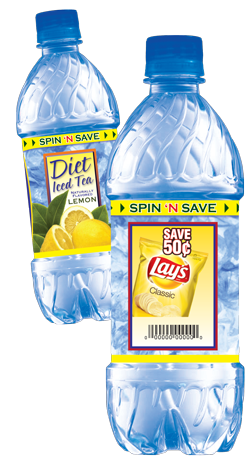 Instant Redeemable Coupons
InstaScan Instant Coupon Program
Coupon Is Redeemable At Checkout
Encourages Multiple Product Purchases At Each Store Visit
Extended Content Shows Through Top Label Window
Multiple Coupons On The Base Label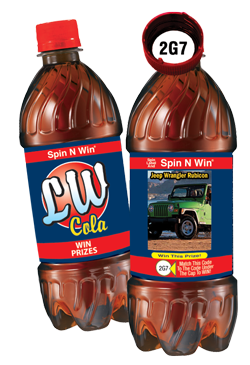 Under The Cap Promotions Tied Into Label Message
It's new and fun…
Great For Contests And Promotions
Match Code Under The Cap To A Code On The Label To Win
Direct Consumer To Website To Redeem Prize
Multiple Prizes / Chances To Win Per Base Label

All Artwork Concept Only  •  Disney® Twist N Chill