Cups

Spin your message
to the world…
…a new collectible, interactive, and fun way to cost effectively drive incremental revenue.  
Ideal for:
Quick Serve

Sports Arenas

Theaters

Casual Dining

Theme Parks

Convenience Stores
Great way of promoting:
Larger Sizes and other Up-sell/Cross Sell

Movies

Concerts

Cross Brand/Up-sells/Cross Sells

Attendance (Cup Day at the Ballpark with pictures of players)
SpinLabel Beverage Cups
Promotional, Interactive, Fun
Interactive Contests & Games Right On The Cup
Encourages Multiple Product Purchases To Find Winning Codes
Extended Content Shows Through Top Label Window
Multiple Panels On The Cup Base
Consumer Spins Label For Contests, Games, Action & More.
Movies
Drive sales back to your stores – Collect Multiple Cups
Featuring multiple, never before seen film shots from the all star cast.
Top Shrink Label

Base Cup Art

Collect Them All
Different characters on the cups – Encourages customers to return to collect them all.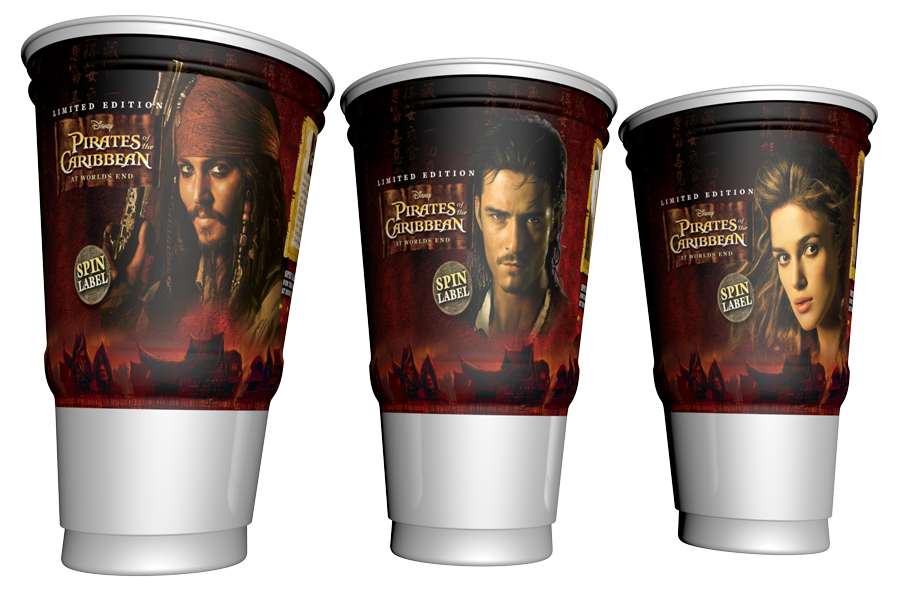 Pirates © Disney
Fast Food
Enter Cup Codes For A Chance To Win Exciting Merchandise On The Internet
Encourages customers to collect cups and win prizes.
Top Shrink Label
QR Code sends customers to website to enter to win.

Base Cup Artwork

Alternative Label
Enter Code Online To Win – Code Random – Printed On Top Shrink Label

Base Cup Artwork

Sports
Promote your sporting venue or event
 Top Shrink Label

Base Cup Artwork

Venues/Locations
Feature different areas of your park/location/venue for customers to visit.
An easy, fun, informative way to deliver your message.
Top Shrink Label

Base Cup Artwork

How it works
The patented "spin" label packaging technology now works on cups.   It is actually two labels, a top label and a bottom label (most likely printing on the cup itself). As the consumer spins the top label, information on the bottom label (cup) is revealed through the window, almost doubling messaging space on  the cup!